GWR, Marketing extension
Complete Marketing Function
B2B 360 Communications
Head Office: Beirut, Lebanon
Geographical Presence: MENA
GWR is a business-to-business consulting company with 2 distinctive divisions, Food Safety and Customer Service, with offices in Lebanon & UAE and operating in the region. Working with GWR Consulting has been both challenging and rewarding given the scope of the businesses and the intricacies of services offered.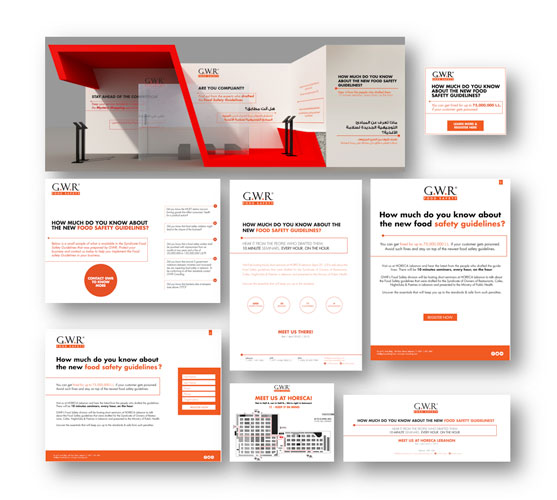 We've been working with both divisions on all their communication touch points, from creating business collaterals, managing social media channels, creating a new identity for a new service launch, developing and managing lead generation campaigns online, managing email marketing, developing an array of branded materials to delivering a booth design to be used in expos.
Spearhead was tasked to act as an extension to GWR's marketing department and has been working hand-in-hand with the team to deliver targeted communication initiatives.
A couple of sample key projects that were delivered in 2015 are:
HORECA 2015:
Booth design, lead generation campaign, communication collateral development (online & offline)
Kitchen 360:
A full design for a new quick solution service that ensures food safety conformity, including: brand identity, brochure, landing page and campaign
Shopper Program:
Certificates, email shots, social media ads & visuals