Social Media Trends 2019 report
Feb 21, 2019
This article sums up Hootsuit's Social Media Trends 2019 report, which we highly recommend you read here.
The report is based on an annual survey of 3,255 Hootsuite business customers, interviews with industry analysts, and exhaustive research. They've distilled these questions and issues into key social media trends for brands to watch and adapt to in 2019.
We've summarized their takeaway into the below.
1. Rebuilding trust:
Consumers are getting skeptical of brands on social media; so brands need to be more human and approachable.
According to Edelman's 2018 Trust Barometer Report, 60 percent of people no longer trust social media companies.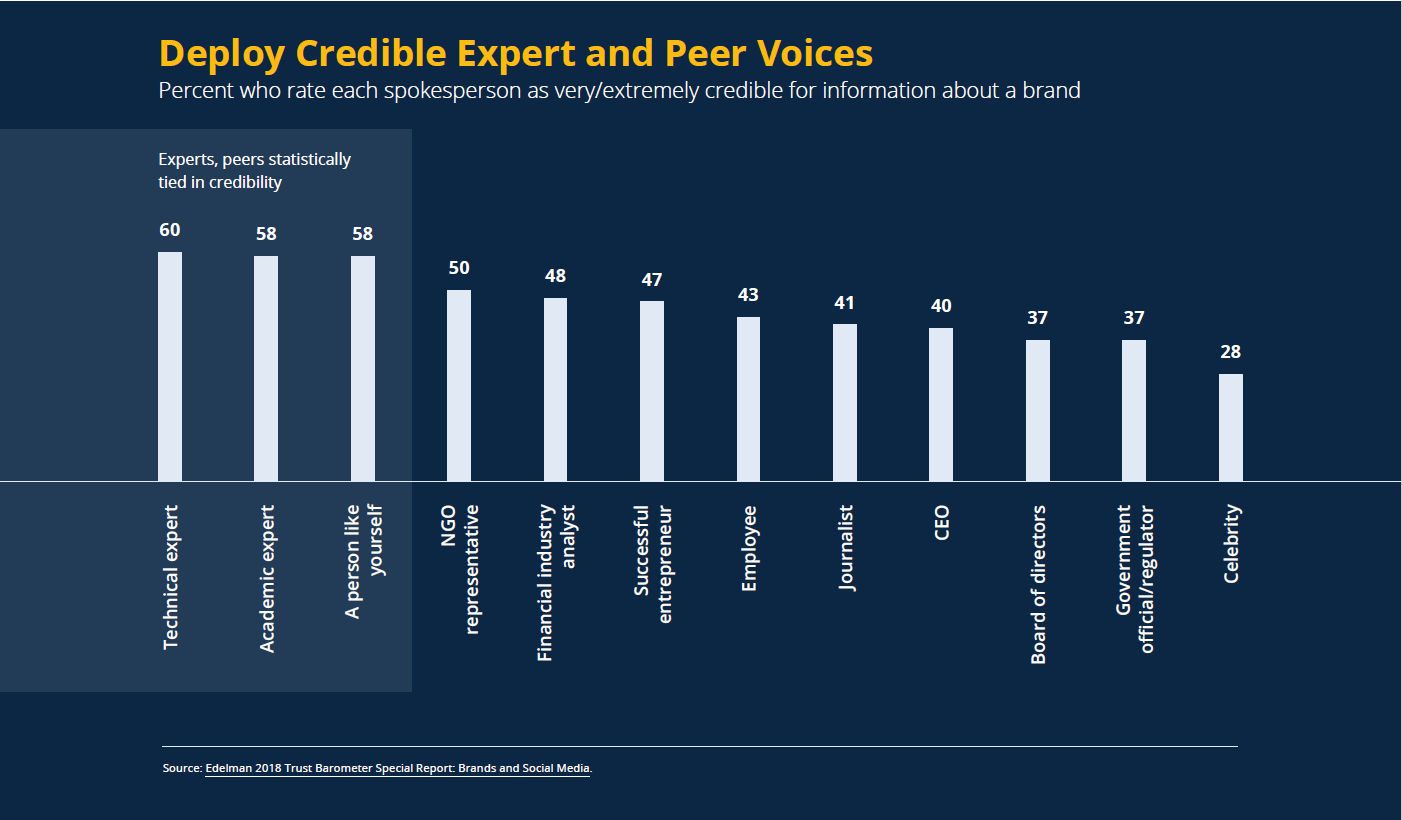 Progressive companies like Adidas and The New York Times are developing more intimate & meaningful dialogue with smaller groups by creating communities and sharing insightful and researched content.
Another trick is for brands to move away from celebrity influencers and leveraging their own internal experts and employee advocates.
SUGGESTION: Run a Facebook Live featuring subject matter experts at your company to educate your audience and build trust.
2. Storifying social:
According to consulting firm Block Party, Stories - the vertical, ephemeral slideshows pioneered by Snapchat - are now growing 15 times faster than feed-based sharing.
The newsfeed as we know it is on its way to extinction. This means content teams need to adapt to offer new formats as Stories become second nature for a new wave of digital natives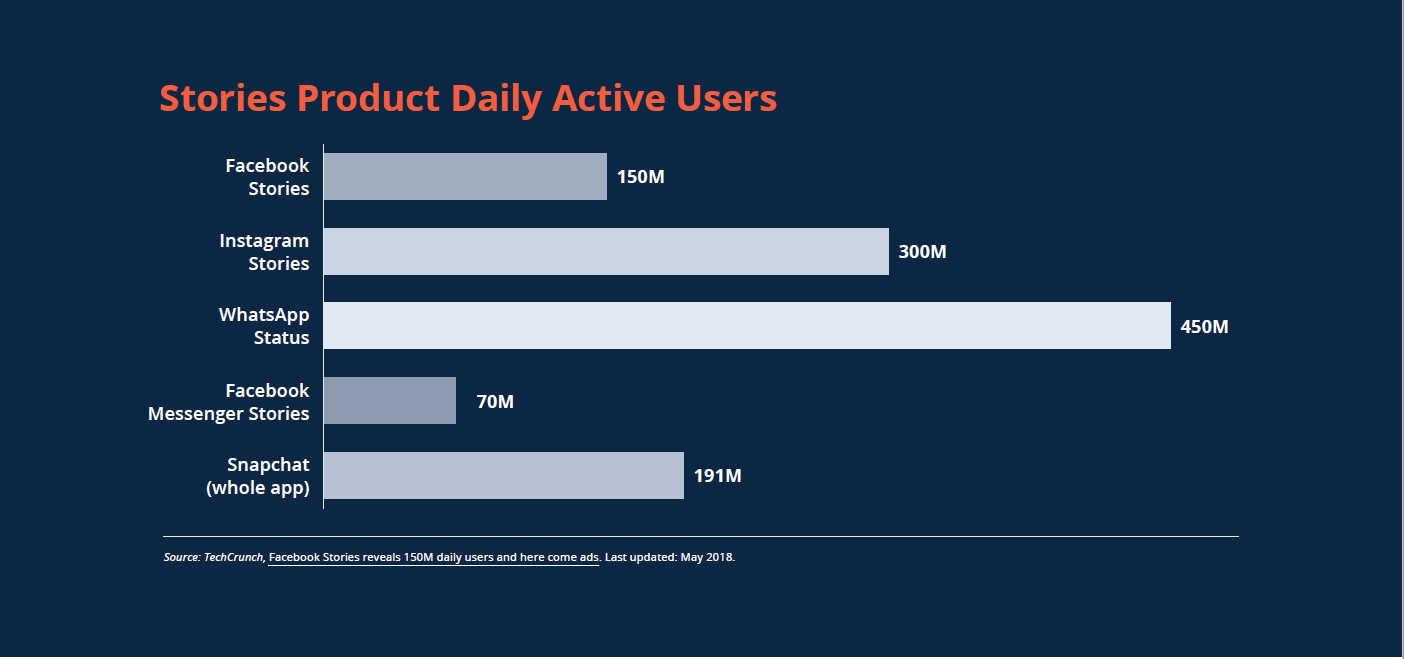 While high-production-value posts are still important, you shouldn't forget about the intimate, multimedia look and feel of Stories. Big brands are finding that less polished, more realistic Stories perform better than heavily edited takes filled with calls to action.
SUGGESTION: Experiment with ever-evolving Story technologies to give your customers an unexpected experience.
3. Closing the ads gap:
We're going to quote a few big bulks from the report directly because they've put it together so perfectly.
"By now, everyone knows we're in the pay-to-play era on social. Accordingly, marketers are increasing social ad budgets (up 32 percent in 2018 alone) and producing more ads than ever before.
But with the popularity of social ads have come new challenges: Prices are increasing and it's becoming harder to get noticed. According to Mary Meeker's Internet Trends 2018 report, Facebook click-through rate (CTR) costs have increased by 61 percent, and cost per thousand impressions (CPM) has jumped 112 percent.32 Rising costs and fleeting attention have combined to limit ROI for advertisers and reduce overall margins.
Millennials and Gen Z, in particular, have grown adept at filtering out irrelevant ads, either skimming over or actively using ad blocking tools. While you may be able to pay your way into someone's news feed, that's no guarantee that anyone is going to pay attention.
The solution? Paid social teams are recognizing the importance of pairing ad money with an equivalent investment of time, creativity, and targeting savvy. And they're amplifying the best performing organic content with paid boosts.
The right tech and know-how can help. We're seeing brands build out their social teams (both in-house and agency) with skilled cross-platform content creators versed in video, motion graphics, design, and more—increasingly essential skill sets for the new era of social. Enhanced third-party ad targeting tools, which enable easy A/B testing (in some cases with hundreds of variants), are also becoming the norm.
Invest in high-quality content.
With more brands competing for people's attention on social media, ordinary posts aren't good enough anymore. You need to create high-quality content that will resonate with your audience.
Prioritize compelling visuals, which are essential for clicks and high conversion rates on social media. Not every brand will have the budget for expensive equipment or a professional crew, but learning some video basics or even hiring a freelancer can make a big difference in quality.
Split-test for success.
No matter how savvy your ad team is, it's impossible to predict what users will actually click on. That's where split-testing (also known as A/B testing) " - Hootsuit's Social Media Trends 2019
4. Messaging eats the world:
Top messaging apps now collectively count nearly five billion monthly active users, according to We Are Social and Hootsuite's 2018 Q3 Global Digital Statshot.
This means messaging app users now easily eclipse traditional social network users worldwide. People are spending much more time messaging than sharing on social media - shifting from public to private.
The challenge becomes about scaling and savvy brands are using bots to build rapport with customers.
SUGGESTION: Invest in building a messaging bots to guide interested customers to know more.
And as a bonus, you get to see the below graph which nicely lists the pain-points we see from our clients as recurring industry concerns: